Standing Desks
Coworking Configuration
At Office Nomads, I use their standing desk with a Furrino Laptop Stand, an Apple Magic Mouse and a Kinesis Freestyle 2 for Mac Keyboard:
Home Configuration
Inspired by Lifehacker's Standing Desk's on the Cheap, I put together this IKEA standing desk solution for $109. It took me about an hour to assemble. In the picture, I'm using a Goldtouch Go Travel Keyboard but I've switched to the Kinesis Freestyle Solo (learn more). 
I've since changed this over to an LCD display and a MacMini.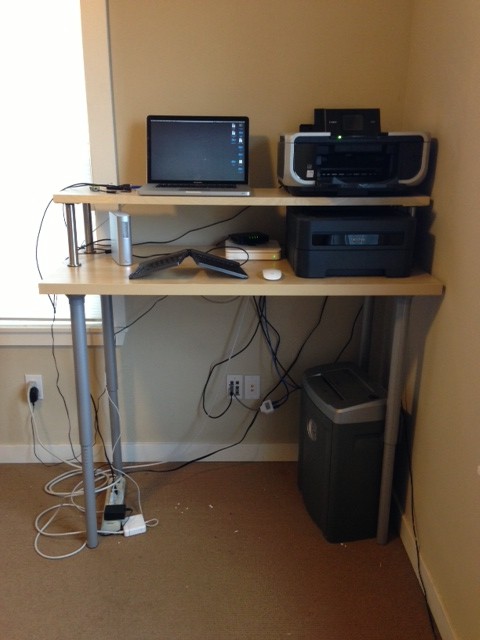 Standing Desk Legs and Tabletop:
Two of the Vika Kaj legs broke when I tried to install them – the adjustment mechanisms are very poor. I had to make another trip to the not-so-local IKEA to replace them. Alternatively, consider: Utby Underframe $89.99 (though it seems like it's been taken off their website – from this). IKEA also has some other adjustable legs such as the Gallant A-Leg. All of these adjust to 35 3/8″ officially – but I was able to get my Kaj legs to go a few inches higher. The Gallant T-Leg for example only adjusts to 32″.
Display Shelf: